The School of Criminal Justice Alumni Association has established this wall of remembrance to commemorate and honor our alumni who have made the ultimate sacrifice protecting their communities.
Our Fallen Heroes
Officer Daniel Duyst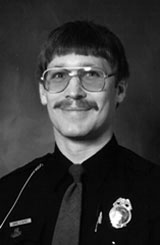 Officer Daniel C. Duyst was a nine-year veteran of the Grand Rapids (MI) Police Department when he was electrocuted on May 30, 1994. He was 37 years old. Officer Duyst was off duty at the time, and was in a boat on Spring Lake (Michigan) when he heard a woman calling for help for her husband, who was face down in the water. Officer Duyst dove from the boat in an attempt to rescue the man, not knowing that the water was electrified by faulty wiring from a nearby dock. Officer Duyst was killed instantly, as was the man he was trying to save.

Daniel Duyst graduated from the Michigan State University School of Criminal Justice with a Bachelor of Arts degree in 1980. After graduating from MSU, he was hired by the Mason (MI) Police Department as a police officer. He served five years with the Mason Police Department before gaining employment with the Grand Rapids Police Department, where he served as a patrol officer until the time of his passing. Officer Duyst is survived by his wife, Vicki, daughters, Heather and Tiffany, and his parents, Peter and Jo.

End of Watch – May 30, 1994
Officer James Johnson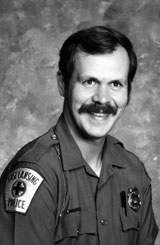 Officer James Johnson had served with the East Lansing Police Department for 11 years when he was shot and killed inside an apartment while attempting to arrest a woman for auto theft. As he was struggling with the woman her male companion emerged from a bathroom and shot him in the back of the head. The two fled on foot to a nearby residence where they shot and killed the unsuspecting owner. While they were trying to steal the homeowner's car police arrested them.
The man was convicted of first-degree murder and second-degree murder and sentenced to life without the possibility of parole. The woman was acquitted of Officer Johnson's murder but was convicted of the homeowner's murder and sentenced to life.
Officer Johnson was a proud husband and father who served his police agency and community at the highest professional level. He made the ultimate sacrifice while protecting the public, in accordance with his sworn oath of office.
End of Watch – October 25, 1984
Officer Bruce Russell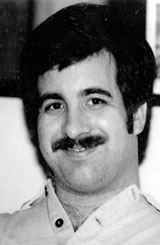 Officer Bruce Russell was a one-year veteran of the Roseville (MN) Police Department when he was fatally wounded on May 16, 1982. He was 28 years old. Officer Russell was shot by a 36-year old convicted felon following a vehicle chase that started when Officer Russell observed the subject running a red light. The car the felon was driving was registered to his ex-wife, and Officer Russell was unaware the driver was wanted on felony warrants for escaping from a federal halfway house and might be dangerous. The subject lost control of his vehicle and stalled out in a ditch. Officer Russell then approached the vehicle and the subject opened fire on him with a handgun. Officer Russell's protective vest stopped three shots, but the fourth round entered through the side panel under the armpit and struck Officer Russell's heart. Although mortally wounded, Officer Russell returned fire on the subject and wounded him. After an extensive short manhunt, neighboring St. Paul Police Department officers arrested the subject. He was subsequently convicted of Officer Russell's murder and later died in prison.
Russell graduated from the Michigan State University School of Criminal Justice with a Bachelor of Science degree in 1976. Bruce was President of the School of Criminal Justice student organization his senior year and was on the Dean's List. He earned a brown belt certificate from the Judo Federation and an advanced diving certificate from the Professional Association of Diving Instructors. After graduating from MSU, Bruce was hired by the International Harvester Company in Fort Wayne, Indiana, and worked as security supervisor for the large security detail. After the Fort Wayne company's operations closed down, Bruce pursued his lifelong dream and passion to become a law enforcement officer, and was subsequently hired by the Roseville (MN) Police Department in 1981 as a patrol officer. Bruce Russell is survived by his wife, Linda, and daughter, Melissa, as well as his parents and several members of his extended family.
End of Watch – May 16, 1982
Officer Mason Samborski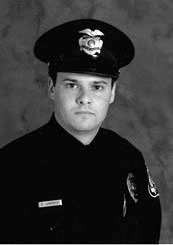 Officer Mason Samborski was a four-year veteran with the Oak Park (MI) Department of Public Safety. He was killed in the line of duty shortly after midnight on December 28, 2008. He was 28 years old. Officer Samborski was fatally shot by a 16-year-old male who was the subject of his police investigation following a traffic stop. The teenager was driving alone and without identification, so Officer Samborski gave him a break and transported him home. Upon arrival, Officer Samborski did not locate a parent and the youth fled on foot. Officer Samborski gave chase, caught up with the suspect and a struggle ensued. They both tumbled down a flight of stairs and Officer Samborski was injured in the fall. The juvenile obtained possession of Officer Samborski's gun and fatally shot him in the head. The suspect was taken into police custody later that day. He was subsequently charged with 1st Degree Premeditated Murder, Murder of a Peace Officer, and two Felony Firearm charges. The teenager was tried as an adult, found guilty on all charges, and sentenced to life in prison without parole.
Mason graduated from the Michigan State University School of Criminal Justice with a Bachelor of Arts degree in 2002. While at Michigan State, Mason served as a Cadet and P.A.C.E. Officer with the East Lansing Police Department. Mason graduated from the Police Academy at Kellogg Community College in 2004 and at the top of his class from the Fire Academy at Schoolcraft College in 2006. Mason was awarded POAM's 2008 Officer of The Year, Oak Park Public Safety Department's 2008 Employee of the Year, and the East Lansing Police Department Medal of Valor, and was honored by the Livingston County Red Cross as an "Everyday Hero." Mason is survived by his wife and daughter, parents, siblings, nieces, nephew, in-laws, extended family, many dear friends, cohorts, and the fraternity of law enforcement professionals.
End of Watch – December 28, 2008