The Cold Case Unit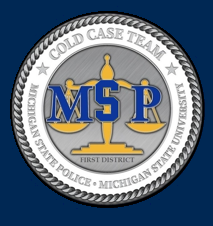 The Michigan State Police First District Cold Case Unit
In April of 2020, Detective Sergeant Larry Rothman contacted the School of Criminal Justice at Michigan State University to form a collaborative cold case unit. Faculty members Karen Holt, Ph.D. and Allison Rojek, M.A. have worked with Detective Sergeant Rothman to build this unit and develop unique learning opportunities for our students.
Cold Case Investigation
This opportunity, which is available to students as an independent study, experiential learning opportunity, or an internship, allows students to engage directly with detectives in the Michigan State Police First District Cold Case Unit to assist in their investigation of cold case homicides and other cases across the state. Students will work in our Cold Case Library, which houses cold cases from across the district. Students gather, synthesize, and analyze police investigative files and use such information to create a victimology for the case, applying theoretical constructs from both victimology and criminology.
Students will also network with individuals across the criminal justice and forensic disciplines. Regular guest speakers include professionals from various divisions of law enforcement, such as homicide detectives, crime analysts, and computer crimes investigators. Additionally, students will learn from forensic anthropologists, victims' advocates, and homicide survivors.
This is not simply a course – the goal of this experience is to immerse our students in the cold case investigation process.
MSP-MSU Collaborative Cold Case Team Commitment to Victims and Survivors
It is our mission to be victim-centered and offender-focused. We seek to ensure the centrality of victims in the design and implementation of our cold case investigative processes and procedures. Our approach respects and best supports the survivors who have been affected by these crimes. Our team involves a victim advocate who can advise regarding victim-centered and trauma-informed methods of notification of the family, ways to support the family and manage expectations throughout the reinvestigation, and the best practices to support the family post-case review. We are committed to providing a compassionate approach toward the survivors of cold case investigation.
We also maintain our focus on the potential offenders involved in these cases. They are the sole responsible parties who have evaded accountability for the harms they have inflicted on the victim, the survivors, and the communities in which these crimes occurred. We are focused on offender accountability, regardless of the amount of time which has passed since the crime was committed.
Please Note: The Michigan State Police Cold Case Unit determines which cases will be officially reopened by using a scoring matrix. The matrix is comprised of several factors which determine each case's solvability rating. Even though all cold cases will be reviewed, not all of them may be reopened for investigation.