Dr. Scott Wolfe Promoted to Full Professor
June 21, 2023 - JJ Thomas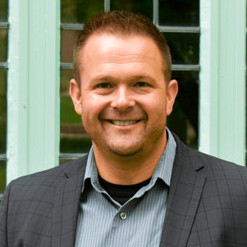 The School of Criminal Justice would like to congratulate Dr. Scott Wolfe on being promoted to Full Professor!
Dr. Wolfe joined the School in 2017 as an Associate Professor. Since then, he has served as Associate Director of the School of Criminal Justice, Director of the School's PhD Program, and as the Director of the Michigan Justice Statistics Center.
Throughout his career, Dr. Wolfe has authored or co-authored 60 peer-reviewed articles, has chaired 5 dissertation committees and received numerous awards for his work, including the Early Career Award from the ASC Division of Policing.
Dr. Wolfe says "the most rewarding aspect of being a professor is being able to conduct research that helps improve our understanding of crime and justice, while also leveraging such experiences to educate our students and practitioners on evidence-based practices to address crime problems and improve fairness in the criminal justice system."
Congratulations, Dr. Wolfe – this is well earned!