Scott Wolfe
Faculty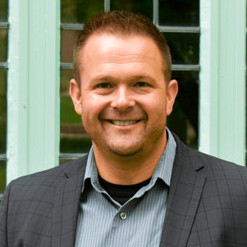 Associate Professor | Associate Director | Director of PhD Program
School of Criminal Justice
PhD 2012, Arizona State University
MA 2008, University of Louisville
BA 2006, Ohio Northern University
510 Baker Hall
655 Auditorium Rd.
East Lansing, MI 48824
Links
---
Biography
Scott Wolfe is an Associate Professor and Associate Director in the School of Criminal Justice at Michigan State University. He received his PhD in criminology and criminal justice from Arizona State University. Scott's research focuses on policing, organizational justice, legitimacy, and criminological theory. Currently, he is principal investigator on a Bureau of Justice Assistance (BJA) Project Safe Neighborhoods grant. This project will involve a partnership with the Saginaw (MI) Police Department, other local and federal law enforcement agencies, and community service providers to develop focused deterrence strategies to combat gang-related and other violent crimes in Saginaw. Scott recently completed a National Institute of Justice grant evaluating a police officer social interaction and de-escalation training program. Scott's other recent work has examined issues such as the predictors of police officer seatbelt use, police managers' support for organizational justice, officers' experience with negative publicity and the Ferguson Effect, officers' willingness to use procedural justice, and the legal socialization process.
---
Current Research
Scott Wolfe (PI), "Saginaw Community, Offender, and Victim Cooperation Initiative." Department of Justice, Bureau of Justice Assistance, Strategies for Policing Innovation (SPI). Amount: $646,706

Scott Wolfe (PI) & Allison Rojek, "Project Safe Neighborhoods – Saginaw Violent Gang and Gun Crime Reduction Program." Eastern District of Michigan. Department of Justice, Bureau of Justice Assistance. Amount: $351,844

Brent Scott (PI), John Hollenbeck (Co-PI), Joe Hamm (Co-PI), & Scott Wolfe (Co-PI), "Improving Officer Safety and Decision-making by Understanding and Harnessing Within-Officer States and Between-Officer Traits." National Science Foundation. Amount: $499,884
---
Areas of Expertise
Police

Organizational Justice

Procedural Justice

Criminological Theory
---
Publications
The Organizational Justice Effect Among Criminal Justice Employees: A Meta-Analysis
Year: Forthcoming Author: Wolfe, S., & Lawson,S.* Journal: Criminology

Advancing a Theory of Police Officer Training Motivation and Receptivity
Year: 2020 Author: Wolfe, S., McLean, K., Rojek, J., Alpert, G., & Smith, M. Journal: Justice Quarterly

Advancing Social Interaction Training to Reduce the Likelihood of Officer Use of Force Events

Year: 2020 Author: Wolfe, S., Rojek, J., McLean, K., & Alpert, G. Journal: The ANNALS of the American Academy of Political and Social Science


Testing a Theoretical Model of Perceived Audience Legitimacy: The Neglected Linkage in the Dialogic Model of Police-Community Relations

Year: 2020 Author: Nix, J., Pickett, J., & Wolfe, S. Journal: Journal of Research in Crime & Delinquency


Police Officers as Warrior or Guardians: Empirical Reality of Intriguing Rhetoric?

Year: 2020 Author: McLean, K.*, Wolfe, S., Rojek, J., Alpert, G., & Smith, M. Journal: Justice Quarterly
---