Victor Manjarrez
Faculty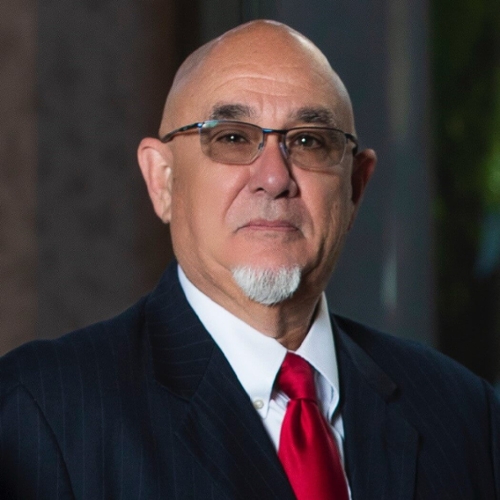 Assistant Professor (Fixed-Term)
School of Criminal Justice
Ed.D. 2018, The University of Texas at El Paso
MA 2013, American Military University
BA 2010, Ashford University
557 Baker Hall
655 Auditorium Rd.
East Lansing, MI 48824
(517) 355-2197
Links
---
Biography
Victor M. Manjarrez, Jr. is a Professor in the School of Criminal Justice and Director of the Intelligence Program at Michigan State University. His expertise is in the areas of border security, homeland security enterprise, and law enforcement intelligence and counterterrorism.
Dr. Victor Manjarrez, Jr. served for more than 20 years in the United States Border Patrol and filled key operational roles both in the field and at Headquarters over the course of his extensive homeland security career. Many of his innovative border security methods and ideas are still the basic cornerstones for the U.S. Border Patrol that are still being utilized today. Throughout Dr. Manjarrez' career in the Department of Homeland Security (DHS) he had been tasked with some of the most arduous jobs that the U.S. Border Patrol had to offer because of his skills in developing complex, efficient, and comprehensive border security programs. Due to his subject matter expertise in developing complex and innovative homeland security practices he was consistently recognized as one of DHS' most dynamic and innovative operational leaders.
Most recently in government, Mr. Manjarrez served in the Senior Executive Service (SES) as the Chief Patrol Agent of the Tucson Sector, the nation's most dynamic, complex, and challenging sector and was named the lead Federal official in Arizona by DHS Secretary Janet Napolitano. In this capacity Mr. Manjarrez was responsible for over 4,500 employees and an annual budget of over $500 million dollars. Due to his leadership and innovative methods he was able to significantly reduce illegal border activity, resulting in reductions in local crime rates and violence, and improving the quality of life to the residents of southern Arizona. During his time in command as the executive officer of the sector he conducted operational briefings to senior level foreign and United States federal officials to include members of Congress. Earlier in his Border Patrol career, Mr. Manjarrez held numerous managerial and supervisory posts at headquarters and in other Border Patrol sectors across the country.
Prior to serving as Chief Patrol Agent of Tucson Sector, Mr. Manjarrez served as Chief Patrol Agent in El Paso Sector; another of the U.S. Border Patrol's most challenging sectors. In 2009, U.S. Department of Homeland Security Secretary Janet Napolitano appointed Mr. Manjarrez as the Acting Director of Counter-narcotics Enforcement (CNE), where he was the primary policy advisor to the Secretary for Department-wide counter-narcotics issues and responsible for leading DHS in their efforts to monitor and combat illegal drug trafficking and international narco-terrorism.
Dr. Manjarrez is also a graduate of Harvard University's John F. Kennedy School of Government Senior Executive Fellows Program.
---
Areas of Expertise
Border Security
Homeland Security Enterprise
Law Enforcement Intelligence
Counterterrorism
---
Publications
The Rise of Border Security: Chaos, Clutter, and Complexity in a Technological Arms Race. In Luigi Achilli and David Kyle (Eds.), Global Human Smuggling: Creativity, Control and Complexity in Unauthorized Mobility
Year: Forthcoming Author: Manjarrez Jr, M. Victor Publisher: John Hopkins University Press

A Border Security Dilemma: The Danger of Chaos and Clutter
Year: 2021 Author: Manjarrez, Jr., V.M. Journal: Current Politics and Economics of the United States, Canada, and Mexico

The Border Ecosystem: Viewing Border Security as Part of a Complex System
Year: 2020 Authors: Manjarrez, Jr. V.M & Rojek, J. Journal: Current Politics and Economics of the United States, Canada, and Mexico

Change in the Organization Socialization of a Basic Law Enforcement Academy: How Supervisors Cope
Year: 2019 Author: Manjarrez, Jr. V.M. Journal: Police Practice and Research: An International Journal

Why Does Organizational Justice Matter? Uncertainty Management among Law enforcement Officers
Year: 2018 Authors: Wolfe, S., Rojek, J., Manjarrez, V.M. & Rojek, A. Journal: Journal of Criminal Justice

Using a Fusion Center Model to Manage Clutter and Improve Border Security
Year: 2017 Authors: Lewandowski, C., Rojek, J. & Manjarrez, Jr. V.M. Journal: Journal of Applied Security Research

Chaos and Clutter: Complexities of Border Security in the United States, In Winston Davidson (Ed.), Homeland Security: Perceptions, Threats and Challenges
Year: 2017 Author: Manjarrez, Jr. V.M. Publisher: Nova Science Publishers

The Use of Social Media by Alleged Members of Mexican Cartels and Affiliated Drug Trafficking Organizations
Year: 2016 Authors: Nix, J., Smith, M.R., Petrocelli, M., & Manjarrez, Jr. V.M. Journal: Journal od Homeland Security and Emergency Management
---