Joseph Hamm
Faculty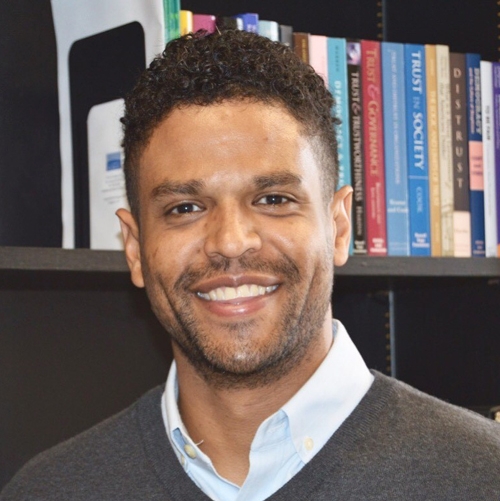 Associate Professor
School of Criminal Justice
PhD 2014, University of Nebraska - Lincoln
MLS 2013, University of Nebraska
MA 2011, University of Nebraska - Lincoln
BA 2008, University of Northern Colorado
518 Baker Hall
655 Auditorium Rd.
East Lansing, MI 48824
Links
Mastadon - @istudytrust@sciences.social
---
Biography
Joe's program of research lies at the nexus of governance and the public where he investigates what trust is, how best to appropriately measure it, and its connection to "outcomes" like cooperation and compliance. Joe works closely with a variety of governance organizations including police agencies, court systems, natural resource authorities, public health departments, and a variety of other state and federal entities with the overarching goal of contributing to a cross-boundary social science of trust.

Joe serves as Graduate Program Director for the MSU Environmental Science and Policy Program; Associate Editor of the Journal of Trust Research; and on the editorial boards of Psychology, Public Policy, and Law and Law and Human Behavior.

Joe also leads the Teaching, Researching, and Understanding the Social Science of Trust Lab. Joe teaches CJ 809 (The Cross-Boundary Social Science of Trust in the Institutional Context), CJ 906 (Advanced Quantitative Methods in Criminal Justice Research), and ESP 804 (Environmental Applications and Analysis).
---
Current Research
---
Areas of Expertise
Trust and Governance
Legitimacy of Legal Authorities
Latent Construct Measurement and Modeling
---
Publications
(Re)Organizing Legitimacy Theory
Year: 2022 Authors: Hamm, J., Wolfe, S.E., Cavanagh, C., & Lee, S. Journal: Legal and Criminological Psychology

Public Vulnerability To The Police: A Quantitative Inquiry
Year: 2021 Authors: Hamm, J., Searle, R., Carr, J., & Rivers III, L. Journal: Criminal Justice and Behavior

Using Public Priorities to Disentangle The Dimensions of Procedural Justice and Trustworthiness in Police-Citizen Interactions
Year: 2021 Authors: Hamm, J. & Wolfe, S.E. Journal: British Journal of Criminology

Learning From The Past: Pandemics and the Governance Treadmill
Year: 2022 Authors: Webster, D., Aytur, S., Axelrod, M., Wilson, R., Hamm, J., Sayed, L., Pearson, A., Torres, P.H., Akporiaye, A., & Young, O. Journal: Sustainability

Comfort with and Willingness to Participate in COVID-19 Contact Tracing: The Role of Risk Perceptions, Trust, and Political Ideology
Year: 2022 Authors: Van Fossen, J., Ropp, J., Darcy, K., & Hamm, J. Journal: Social Science & Medicine
---