Undergraduate Student Spotlight: The Cole Twins
October 31, 2019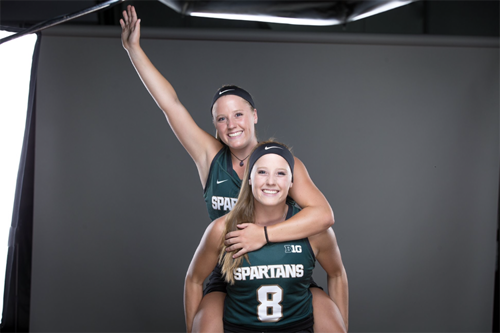 Growing up in the small town of Chelsea, Michigan, Maggie and Meghan were dubbed "The Cole Twins" a nickname that has stuck around ever since. Their family has a long history working in the Criminal Justice field, with their father being a reserve police officer, their grandfather currently working as a police officer, and their grandmother being one of the first female police officers in Lansing, Michigan. As children, Maggie and Meghan were obsessed with law enforcement and rarely missed an episode of Cops or America's Most Wanted. Their passion persisted into high school when they decided to apply to Michigan State University with the intention of studying Criminal Justice.
Maggie Cole is a Junior studying Criminal Justice with a minor in Peace & Justice Studies. Meghan Cole is a Junior studying Criminal Justice with a minor in Security Management. Both plan on graduating in December 2020. They have interned with the Michigan Human Trafficking Taskforce and the Holland Police Department where they gained firsthand experience alongside K9 officers, Detectives, Community Police Officers and Booking.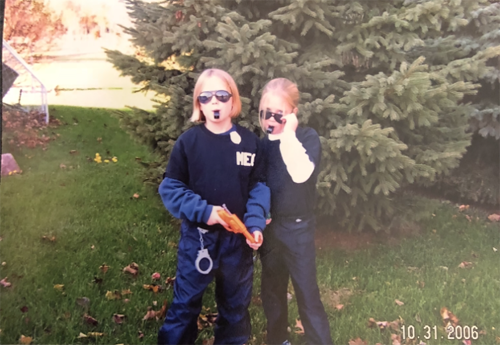 As student athletes on the MSU Field Hockey team, the Cole Twins have had a unique student experience. In between practice, training, traveling, and games Maggie and Meghan spend most of their time studying and in class. When they do find free time, the Cole Twins enjoy spending time with their teammates going out to the movies, making dinner, or having a movie night at home. Being a student athlete on campus has been a vastly different experience than what either of them expected when coming to MSU. Maggie says, "in high school, you are the star, but in college you need to work hard to get into the spotlight," while Meghan says the biggest struggle has been time management. Although there has been struggle involved with being a student athlete, both Maggie and Meghan agree that they would not change the experience because of the friends they have gained along the way.
Over the next year at Michigan State University, the Cole Twins plan on beginning their career search and finishing up their remaining courses. After graduation, they are hoping to work in law enforcement, most likely in a patrol division. The Cole Twins say their favorite part of attending MSU has been the same reason they came to campus in the first place. Not just to play field hockey or to study Criminal Justice, but because of the atmosphere of campus.
| | |
| --- | --- |
| Maggie Cole | Meghan Cole |