CJ Student Awarded CyberCorps Scholarship
April 24, 2018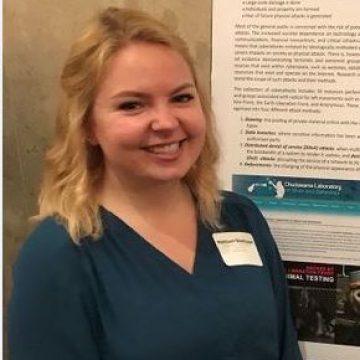 Criminal Justice student Mattisen Stonhouse has been awarded the CyberCorps Scholarship for Service Program at Northeastern (a scholarship program that is funded by the National Science Foundation).
The goal of the CyberCorps Scholarship for Service Program is to "prepare highly-qualified cybersecurity professionals for entry into the government workforce" who will "serve the nation in securing its cyber infrastructure." Mattisen Stonhouse is currently a senior in the MSU School of Criminal Justice and will be attending Northeastern University in the Fall of 2018. Her 2 year tenure with the U.S. Government will begin upon her graduation from Northeastern.
Throughout her collegiate career, Mattisen has shown a strong sense of drive and dedication to the cybersecurity field. Outside of the classroom, she has held a multi-semester internship with the Michigan State Police's Cyber Command Center; attended conferences including the Women in Cybersecurity Conference; and collaborated on cybersecurity research with Dr. Tom Holt. Recently, Mattisen presented some of her own research findings at the University Undergraduate Research and Arts Forum (UURAF). Her research was done under the guidance of Dr. Holt, and was funded by the MSU College of Social Science Dean's Assistantship. The study focused on ideologically motivated cyberattacks committed by terrorists and extremist groups associated with radical far left movements. Mattisen examined various materials associated with these ideologically-motivated cyber attacks to "identify trends about the individuals and groups involved in each attack, the targets of the attacks, and the economic impact imposed on victims," in hopes of better protecting the public from "ideologically-motivated attacks on and off-line, and how to defend against and investigate them."
Congratulations, Mattisen! We wish you the best of luck!