Student view: The importance of academic research, alumni connections
December 7, 2022 - Ryan Weinberg
Ryan Weinberg is a dual political science and criminal justice senior in the College of Social Science where she is a Social Science Scholar and a Political Science Scholar.
On Nov. 29, I had the honor of introducing former Governor of Michigan, Jim Blanchard, at the 2022 Public Service Forum held at the Wharton Center for Performing Arts. This year, the forum recognized former Secretary of Defense Leon Panetta for his service. This type of event, when we are privileged to hear from some of the most distinguished public servants in our country, is the making of an unforgettable experience. Gov. Blanchard and Sec. Panetta were not only personable, intelligent and thoughtful, but encouraging in motivating younger generations to become rational and humane public servants.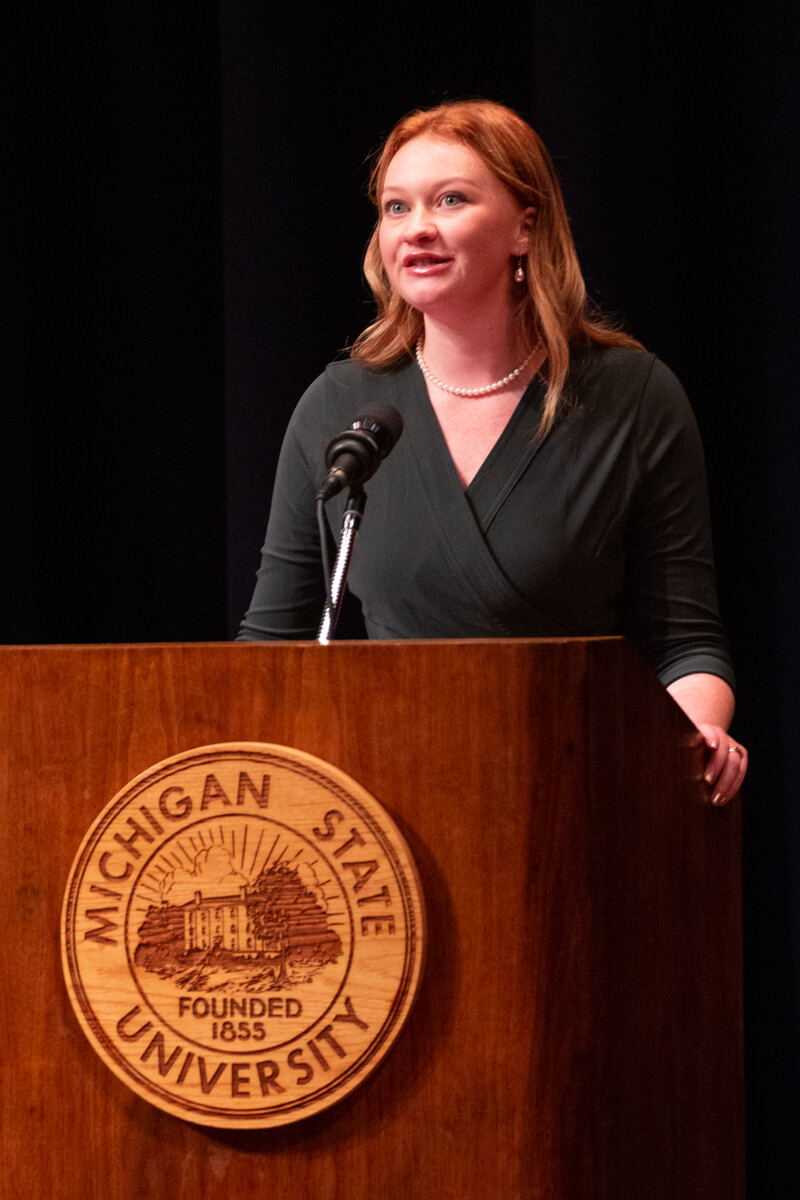 Sec. Panetta and Gov. Blanchard discussed an array of salient issues, including political polarization, threats to democracy and political misinformation. Listening to these exemplary public servants offer their thoughts and opinions resonated with me deeply – and to many others who have learned that we must not be complacent about the future of American democracy. In my case, this anxiety has fueled an original research project. For the past three years, a fellow Social Science Scholar, Sydney Wojczynski, and I have been studying the spread of political misinformation on social media, specifically focusing on Michigan State University students' use of Instagram Infographics as a source of news. From our study, Sydney and I found a significant relationship between self-reported knowledge of political issues and the strength of self-reported partisanship. This may be a cause of concern lending to affective polarization and a harsh divide between political parties, which has been an observed crisis to the effectiveness of American democracy.
It was to me a striking reminder of the importance of academic research, even at the undergraduate level, and the significance of what we can learn for national security.
MSU has given me ample opportunity to hone the skills needed for a career in safeguarding the democracy of which we are so rightly proud of. Apart from my leadership with the Social Science Scholars' Democracy Research Lab, I have worked on two projects led by Thomas Holt, professor in the School of Criminal Justice: one concerning the trade of illicit goods on the Dark Web and the other investigating life histories and ideologies of cyberterrorists. These projects, funded by the Department of Homeland Security, have cultivated my interest in national security and investigations.
These on-campus experiences have been enriched by something else which MSU has provided for me: significant alumni relationships. Through the Social Science Scholars Program, I had the opportunity to meet Spartan graduate Patrick Grobbel, a managing director in the governance, risk and advisory group at Kroll, Inc. in Washington, DC. Patrick, himself a proud graduate of MSU's School of Criminal Justice, graciously agreed to serve as my professional mentor. Under his guidance and courtesy of his advising, I learned about Kroll, Inc, and then secured a selective and rewarding internship. As a college senior, I currently work part time at Kroll as an intern within the Forensic Investigations and Intelligence division.
MSU, specifically the Social Science Scholars Program, the School of Criminal Justice and the Department of Political Science, has provided me with a range of exceptional opportunities that will continue to impact me long after I graduate and leave East Lansing. The generosity of university alumni has also enabled me to afford to study at this fine university as an out-of-state student.
To return to Sec. Panetta and Gov. Blanchard, I strongly urge fellow social science students to strive to emulate their careers. MSU has much to offer in terms of research and professional opportunities, to help us follow in their footsteps. Current Spartans will be involved in government, political campaigning and vital intelligence work. With the preparation we receive, I hope we can match their devotion to public service, decency in discourse and respect for truth.